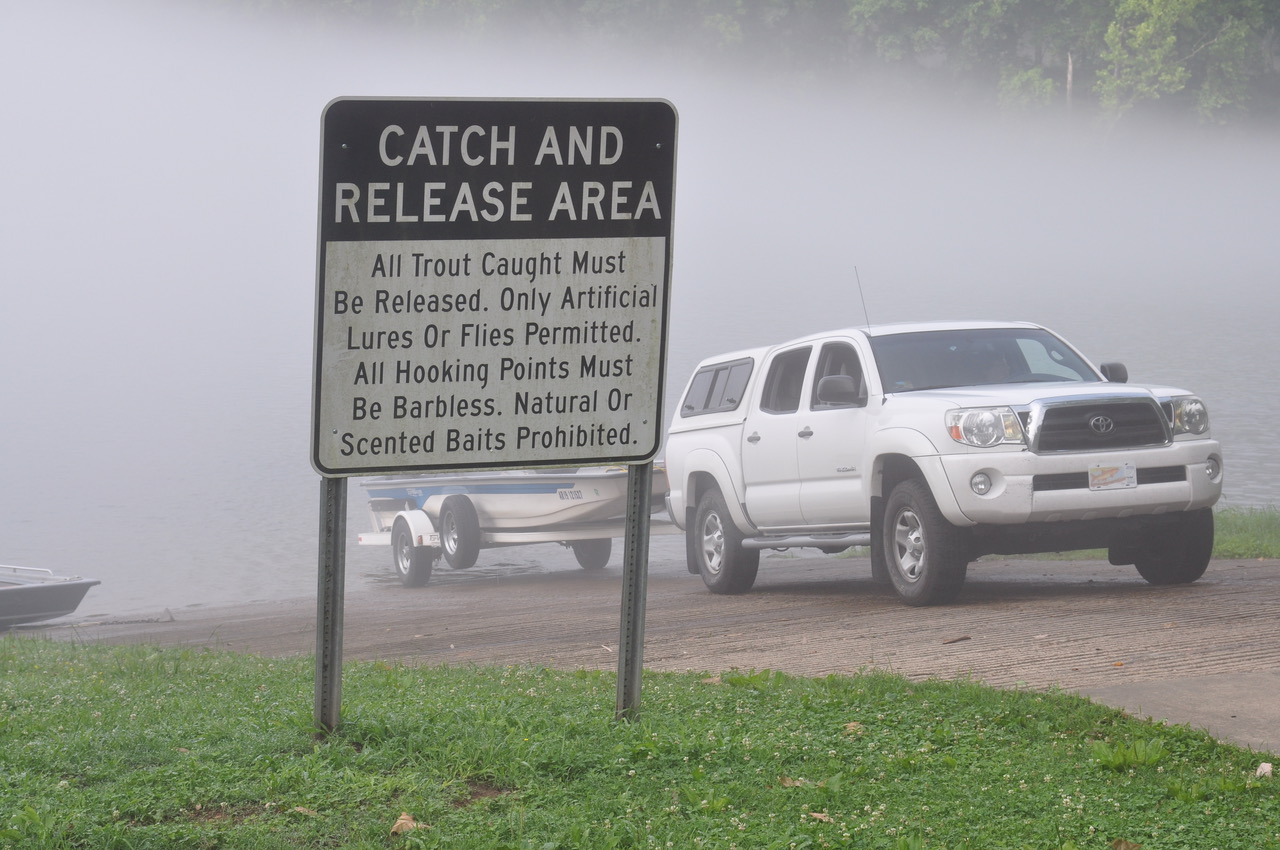 After spending three days in Little Rock Arkansas attending the annual Outdoor Writers Association Of America conference Dave Zumbaugh and I headed north for Mountain Home and the fabulous White river.
Headquartered at Riley's Station where the Buffalo River meets the White, Miles' son Gavin drove us up to Rim Shoal. Dave and I stayed out of the way while Miles and Gavin launched the battered 20' johnboat.  With Dave and I safely aboard we motored upstream through heavy fog to Redbud Shoal, then started our drift back downstream throwing two-fly rigs…and catching trout.
When we had drifted through a particularly productive piece of water Miles would fire up the 9.9 hp Mercury and take us back upstream so we could drift it again…and again…and again until it stopped producing and we moved on downstream to the next hot spot.
We fished through the popular Rim Shoal area, on down through Lower Rim Shoal, catching and releasing 11' to 16" rainbows with an occasional cutthroat or brown in the mix. Dave and I both playing a trout at the same time and keeping Miles busy with the net became almost commonplace.
The afternoon fishing was cut short about 2:30 when a violent electrical storm sent us grabbing for rain jackets. Our race downstream was briefly interrupted when the cowling blew off Miles' outboard motor. After a few unsuccessful circles trying to find it we gave up and hauled ass for the safety of Riley's Station.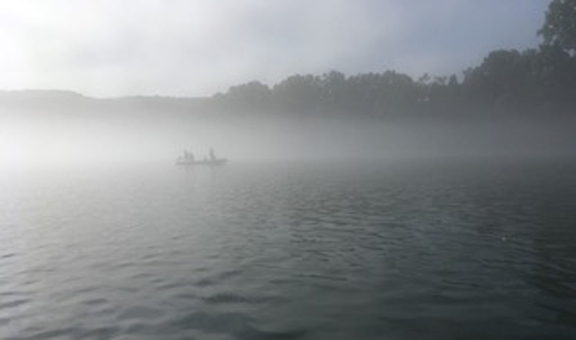 Hot flies of the day were red San Juan worms tied on jig heads by the Riley's twelve-year-old daughter Jalen, orange egg patterns and #16 zebra midges. And they proved just as effective the next day.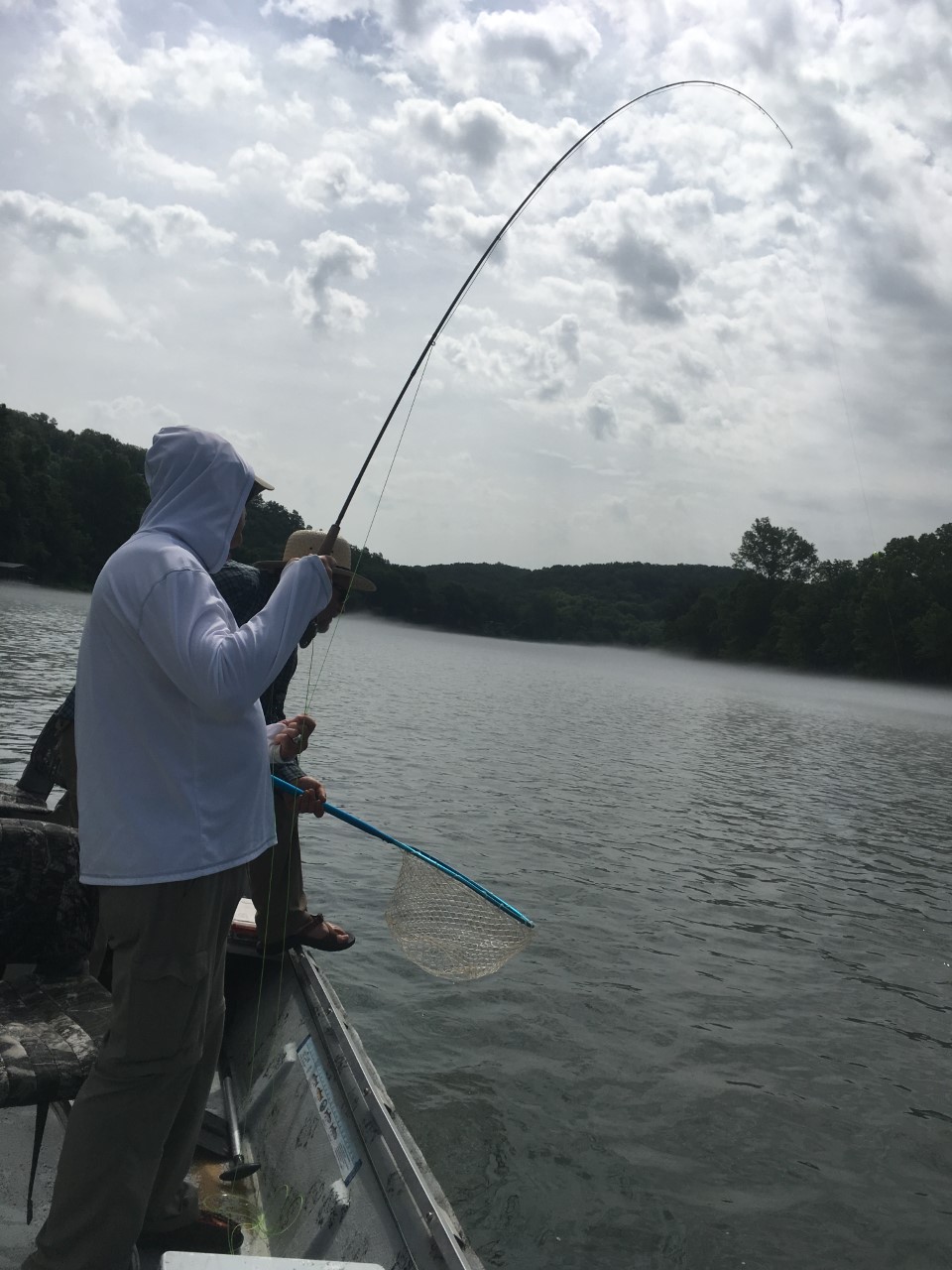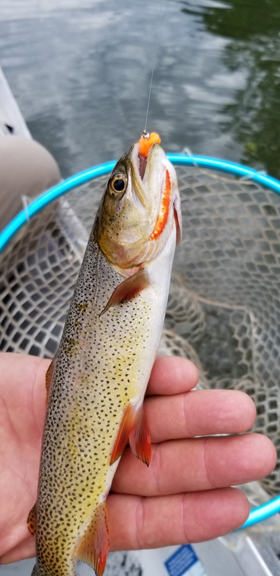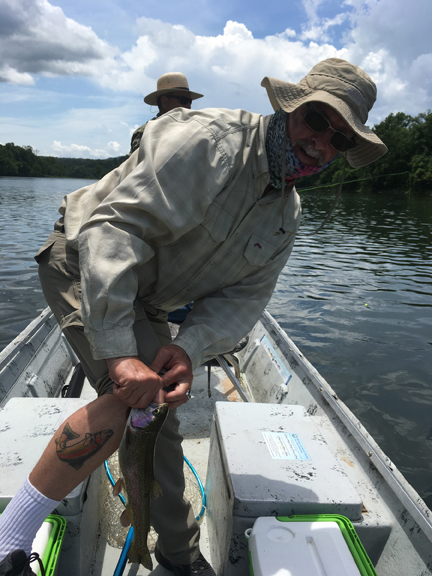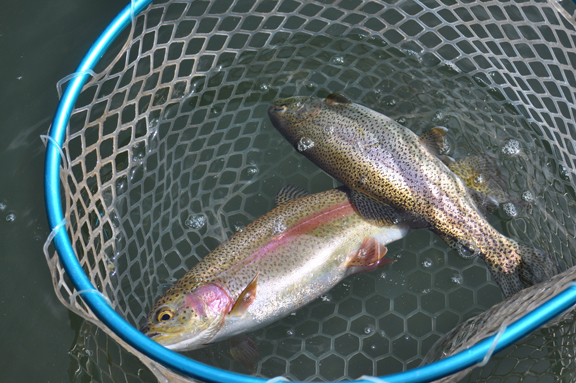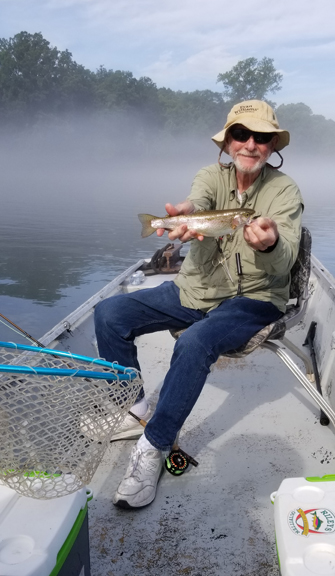 We had hoped to spend Day Two between Buffalo Shoal and Riley's Station but the storm that had driven us off the water yesterday had turned Crooked Creek into a torrent of mud so once again we put in at Rim Shoal and immediately started boating and releasing trout. Looking for shade anyplace we could find it we pulled to shore at mid-day and once again enjoyed one of Miles' (or maybe Michelle's) gourmet lunches.
Somehow during our downstream float, happily bouncing off rocks and catching trout, Miles discovered the entire lower unit of the Merc was missing. This didn't mean we were dead in the water but it did mean less power. So Dave and I continued to catch fish while Miles deftly maneuvered the big johnboat around rocks to avoid further damage. When we reached Crooked Creek and the inflow of muddy water we stowed the rods  and, tired but happy,  limped on down to Riley's Station.
It's always fun to spend a day on the river with outfitter/philosopher Miles Riley. This was Dave's maiden voyage on the White. He's already scheming to go back and I hope I can tag along. Meanwhile if you'd like to catch a mess of trout, see some beautiful Arkansas scenery or just relax in a nice, quiet cabin, check out Miles and Michelle's website www.rileysstation.com. They'll be looking for you!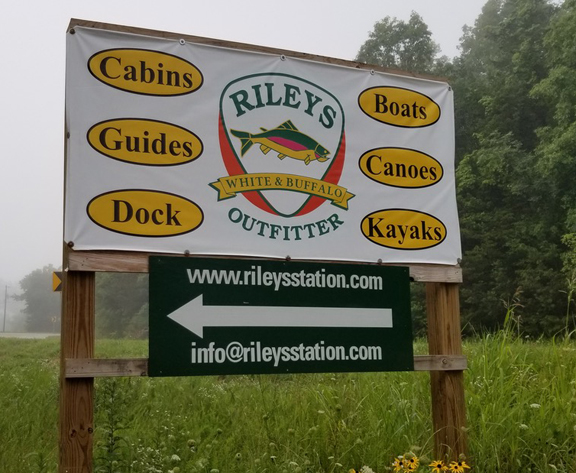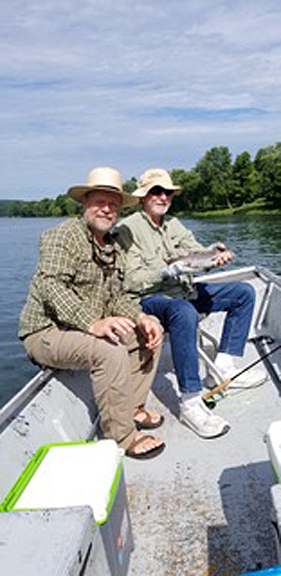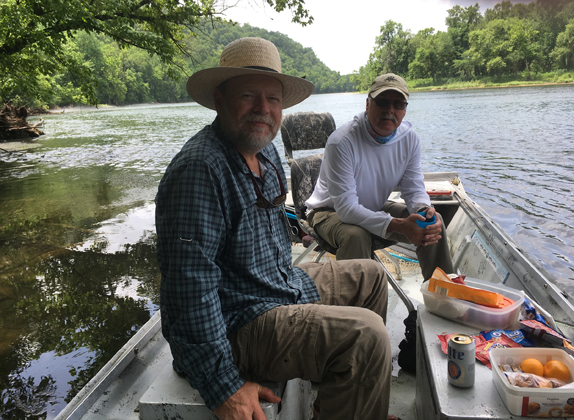 All but three photos by Dave Zumbaugh.
≈