When this big Kansas whitetail buck was born The Lord told him, "Son, I've got good news and bad news. The good news is that I'm giving you a BRAIN. It's a wonderful thing. You can use it to find food and to keep from getting shot by some redneck with a rifle or bow. And I'm giving you a PENIS, which is also a wonderful thing. It will bring you great pleasure and you can use it to propagate your species." The little buck said, "Golly! That sounds great! But what's the bad news?" to which The Lord answered, "I'm only giving you enough blood supply to use one of them at a time."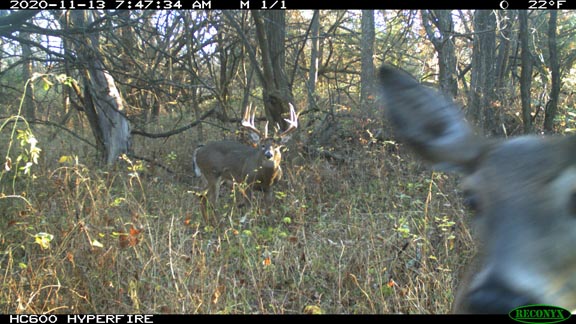 You can see where this big guy hides out in the daytime. He usually comes out to play only in the daylight. But look what he's doing. Which of God's gifts do you think he's using now?
A big thank you to my buddy Scott and his army of trail cams for sharing this photo with me.